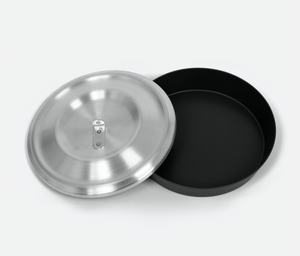 If you've done a NOLS or Outward Bound course you know it and love it.  If you haven't then you're missing out on the best piece of camp cookware we've ever used. 
Pan measures 8″ in diameter x 1 1/2″ deep, holds 3 cups (0.7 liters) when full; pan and lid weigh under 12 oz, which is one-quarter the weight of a similarly- sized cast iron pan. Includes Fry-Bake lid.

The Standard Lid has an "L" shaped tab for lifting riveted with 2 rivets to the lid. This tab has a small hole in it to allow for insertion of a stick, "O" ring or "S" hook.